Today, we are going to have an in-depth look at a cryptocurrency that has been among the hottest discussion topics on Social Media (SM) in early 2023 – Solana (SOL). Last week, SOL even reached the 2nd spot, right behind Bitcoin, among the most talked about cryptos on SM. PUMP from Zenpulsar was quick to pick it up.
What is Solana?
Solana is among the leading public blockchain platforms that support
smart contracts
. The blockchain offers speed and scalability efficiencies virtually unmatched in the market. The platform's concept was first introduced in 2017, and the key intent behind the Solana project was to offer a technically superior and cheaper platform for smart contracts compared to Ethereum, the world's leading smart contract blockchain network. Back then, Ethereum featured anemic speeds of just 15 – 17 transactions per second.
Solana was launched in March 2020. The platform was theoretically capable of processing up to 65,000 transactions per second, one of the highest speeds in the world of blockchain technology. For comparison, Visa's processing capacity is around 1,700 transactions per second.
Thanks to its outstanding processing speeds, Solana enjoyed a celebrity-like status in the blockchain world in its earlier years on the market, though much of the early fame was on a borrowed basis – the project had yet to translate the outstanding speeds into actual business success.
2020 – 2021 – Early Success
Enjoying the "fastest blockchain in the world" image, Solana had a successful initial run, quickly growing its ecosystem of decentralized apps (DApps). Solana was among the pioneers of NFTs and NFT Marketplaces.
Solana's
ecosystem
quickly grew, making the blockchain one of the leaders by the number of DApps in 2021. Solana remains one of the larger blockchains, and as of today, it hosts over 800 DApps.
Solana's native cryptocurrency, SOL, also basked in the earlier success, rapidly appreciating from early 2021. SOL started the year 2021 at $1.50 and, by early November 2021, was worth nearly $260.

Late 2021 – Fall From Grace

Since late 2021, Solana has experienced a series of outages caused by hacking attacks as well as internal bugs. While the first Solana outage occurred back in December 2020, from September 2021 on, these disruptions became more frequent. Between September 2021 and late 2022, Solana experienced no fewer than 7 major outages.

The outages have severely affected the platform's image, with snide remarks like "is Solana ever working?" flying around.

Another major event of late 2021, the November crypto market crash, had an even greater detrimental effect on SOL than the outages. As Bitcoin crashed hard in early November 2021, it took with it the entire altcoin market, SOL included. Just before the market crashed, on November 8, SOL was trading between $250 and $260. By the end of the year, SOL was down to around $170. It kept sliding down in 2022, dropping below $30 by June last year.

Despite a recent uptick, SOL is currently worth just $22, a far cry from its $250+ heydays in late 2021.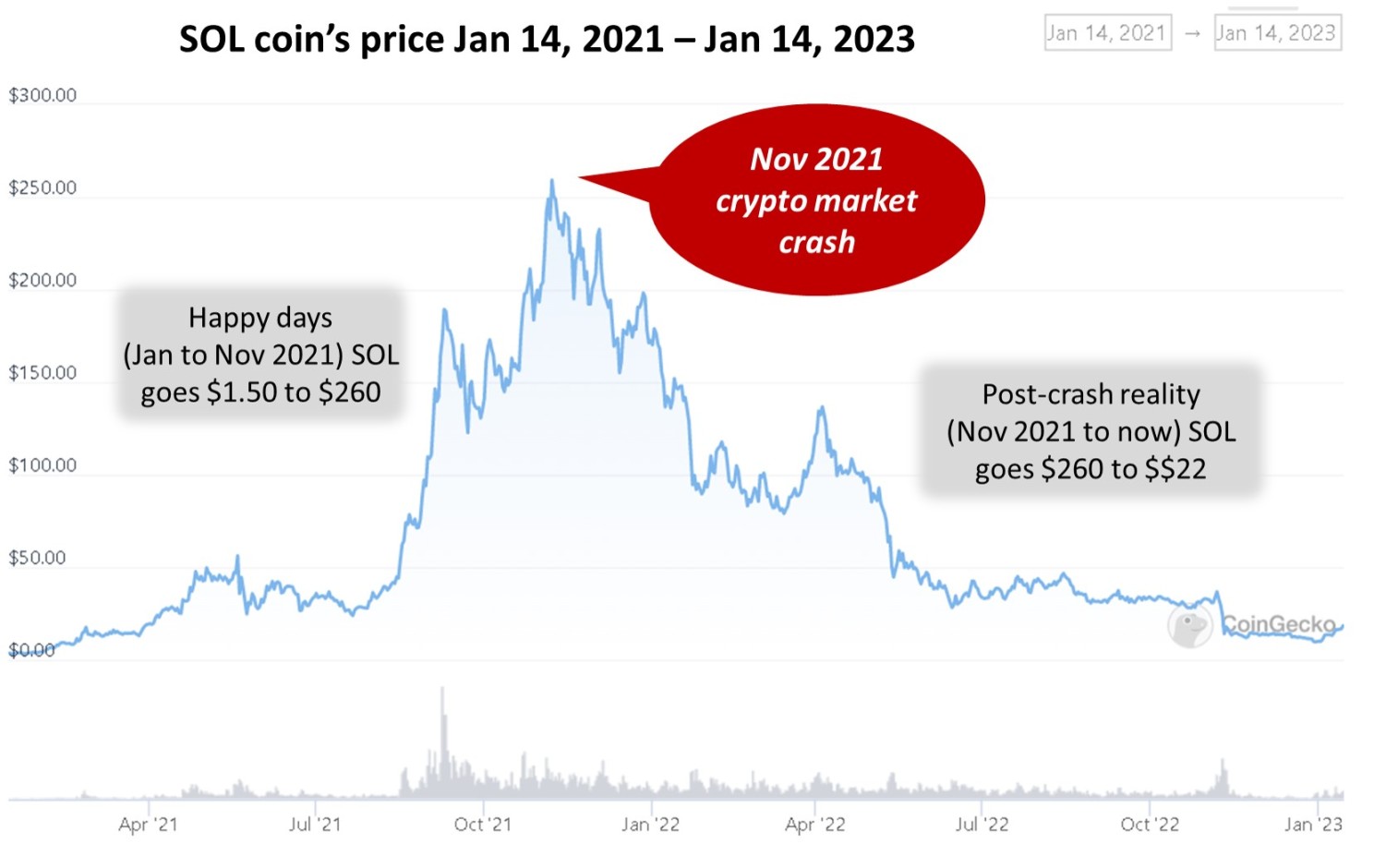 Team Behind the Project

Solana as a project was first conceptualized in 2017 when a computer scientist, Anatoly Yakovenko, published a whitepaper outlining Solana's technical architecture. In 2018, Yakovenko, together with a number of other technology professionals whom he involved in the project, founded Solana Labs, the primary entity that supported the Solana project.

Besides Yakovenko, the co-founder team included Greg Fitzgerald, Raj Gokal, Stephen Akridge, and Zed Zed.

One month after Solana's launch in March 2020, Solana Labs transferred the project's management to the newly formed Solana Foundation, a Swiss-based non-profit organization created to support and advance Solana's decentralized operations. The foundation has a management council, whose members include Wolfgang Albrecht, James Prestwich, Mable Jiang, Patrick von Felton, and the project's seemingly omnipresent figurehead, Anatoly Yakovenko.

What Is Behind the SOL's Latest Price Uptick?

SOL has recently experienced a spike and a significant SM sentiment uplift. This has largely been driven by the highly publicized launch of a new Solana-based memecoin, Bonk (BONK), that some believe will rise to compete with Elon Musk's favorite crypto pet, Dogecoin (DOGE).

This development may or may not lead to BONK's eventual rise as the king of memecoins. It is, however, not likely to be of any significant long-term benefit to the SOL coin. In the world of crypto, these meme-based hysterical waves come and go, mostly leaving nothing behind but a temporary hype.